Stephen A. Mandell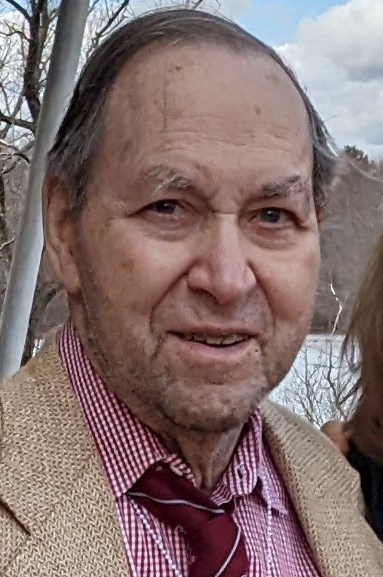 Stephen A. Mandell, of Newton, formerly of New York City, passed away peacefully on September 19, 2022 at the age of 89. Beloved husband of nearly 30 years to the late Marilyn Lamarche Mandell. Dedicated son of the late Joseph and Pearl (Bornstein) Mandell. Stephen leaves his children Stephanie Mandell and her husband Jason Cushman, David Mandell and his wife Lois, and Joyce Mandell and her husband Mike Kantrowitz. Cherished grandfather of George & Elsie; Kevin, Sarah, & CJ; Hava & Joseph. Beloved brother of Merle Shapiro. Also left to cherish Stephen's memory are his nieces Felicia, Rachel, & Carol; and his nephew Richard. Steve will be missed by other relatives and friends, whose deep friendships, cultivated over a lifetime, meant so much to him.
Steve grew up and was most deeply connected to his childhood home in the Chestnut Hill area of Newton. He was proud of his education that included Roxbury Latin, Newton High School (Class of 1950), Harvard College (Class of 1954), and an MBA from Harvard School of Business. He took great pride in starting a successful business quickly after graduating, which flourished until he became ill in 1974. He was a boy scout and, although he had cognitive declines, would often be able to recite the boy scout oath and scout law and tried hard to live by that creed. Education and hard work were important to him. He was honored to serve in the U.S. Air National Guard Reserve and a Mason belonging to the Grand Lodge of Ancient Free and Accepted Masons of Massachusetts (since 1956). He was meticulous and organized. When he was younger, he was adventurous and enjoyed traveling, listening to music, going to symphony, reading, tennis, skiing (all over the world), and flying his airplane (he was quick to tell you he flew that little plane under the Mystic River Bridge – which earned him a trip to Washington D.C. to explain himself once he was finally caught). He was an avid bird watcher, environmentalist, recycler, and saver (nobody could fold and store a plastic bag better than him). He continued to do 50 push ups a day until he was 87 years old. Visits with his grandchildren brought him lots of joy. Walking over the Charles River waterfalls bridge near his home provided him with a sense of peace, beauty, and contentment.
The family wishes to thank the wonderful staff at the Falls at Cordingly Dam, whose care and support made his life better.
In lieu of flowers, donations in Stephen's memory may be made to the National Audubon Society at www.audubon.org/donate or to a charity of your choice.