Robert M. "Bob" Palter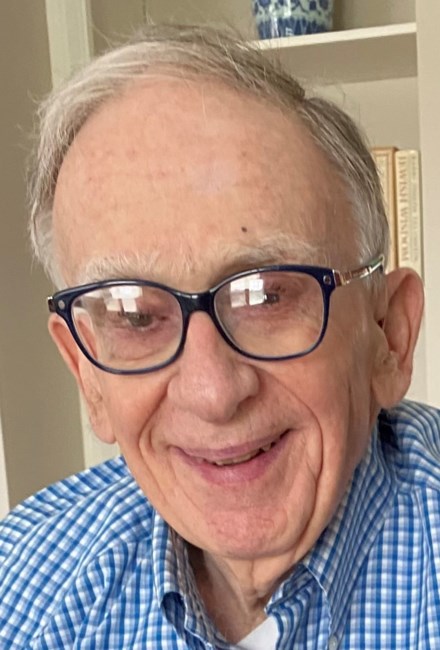 Robert M. "Bob" Palter, Engineer, Life Insurance Executive, and above all Teacher died on Monday, September 19, 2022. Born in 1935, Bob spent his early years in New York City and Upstate New York with the preponderance of his youth in Miami Beach, FL.
He graduated from the Massachusetts Institute of Technology in 1957 and the Harvard Business School in 1960. In between, he served in the U.S. Army Reserve as a Captain.
Bob is survived by his wife of 59 years Rosalind "Bobbie" (Robins) Palter, his daughter Jamie Rennert (Stuart) and his son Jeffrey Palter (Jaimie), his five grandchildren Isabelle, Aaron, and Miranda Rennert and Madeleine and Marlie Palter, and his sister Gloria Palter.
After a career as a General Agent for National Life Insurance Company of Vermont in Boston, upon retirement, he returned to college to earn an additional degree, graduating from the University of Massachusetts-Boston in 2002 with a major in world history and a minor in film analysis.
Upon graduation, he embarked upon a second career, teaching at the Life-Long Learning programs of Brandeis University, Harvard University and Regis College for 19 years.
He was co-chair of the first Achari mission to Israel through the Combined Jewish Philanthropies, and was a strong supporter of the Technion-Israel Institute of Technology in Haifa, Combined Jewish
Philanthropies, and Temple Emanuel of Newton, MA. Contributions may be made in his memory to the above organizations or to Good Shepherd Community Care Hospice, Newton, MA.
Services at Temple Emanuel, 385 Ward St., Newton on Wednesday, September 21 at 11:00am. Masks are suggested.
Burial will follow at Sharon Memorial Park.
Shiva will be at the Palter home, (parking at adjacent Soule Recreation Center parking lot, 652 Hammond Street, or at Star Market, 1 Boylston Street (Hammond Street and Route 9), no parking available at 640 Hammond) on Wednesday 9/21, 3-5pm and 7-9pm (minyan service at 7:30), Thursday 9/22, 1-3pm and 7-9 pm (minyan service at 7:30) and Friday 9/23, 10am-12pm.